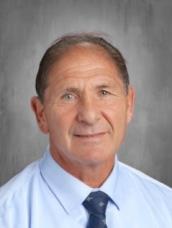 Mr. Paul Morina, Principal
Welcome to Paulsboro High School
Dear Parents, Guardians, and Students,
On behalf of the Paulsboro High School faculty and staff, I would like to welcome you to Paulsboro High School. PHS has a history of academic excellence through the hard work of our students, teachers, parents, and staff. PHS supports a wide array of exemplary academic, athletic, and social opportunities for students. The mission of Paulsboro High School is to challenge and motivate each student to achieve his or her full potential as a responsible member of our diverse community in a safe learning environment that promotes intellectual growth, health, creativity, and respect for self and others. We are proud of the accomplishments of our school and are excited to share our Paulsboro Pride in the upcoming year.
Parents, you are our partners in educating our students, please take the time to join us at the many school events. Additionally, I also ask that you participate in the Guidance/Counseling nights and other informative events that deliver material for students in preparation for life after high school. As well, I encourage you to enroll on Genesis (see web site). This home-to-school communication system is an additional way to stay in touch with your students' education.
Community members, we are fortunate to support student learning within two communities. At Paulsboro, we promote powerful academic opportunities for students from both the towns of Paulsboro and Gibbstown. We recognize that our students are representatives of each of these towns and need to be prepared as they move on to life after high school.
I appreciate your taking the time to visit the PHS website and strongly encourage you to stay involved in your child's education by joining the Parents United Organization, Athletic Boosters, or other parent groups of interest. By working together and remaining involved, parents send a clear message about the importance of their child's education.
Sincerely,
Paul Morina, Principal